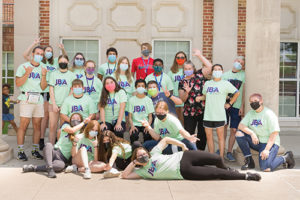 At the onset of the pandemic, most of Truman's summer programming for pre-college students was suspended. Joseph Baldwin Academy was the lone exception, as sessions were swiftly converted to online offerings.
"The virtual JBA program got very positive feedback from those who participated, but students and their families were disappointed it was not in person," said Jeanne Harding, director of the Institute for Academic Outreach.
For summer 2021, JBA returned to in-person programming, and the academy saw participation levels on par with pre-pandemic numbers. More than 360 students came to Kirksville to take part in one of the two available summer sessions.
"It was refreshing to have students back on campus," Harding said. "JBA is best experienced in person, and there was an excitement and energy created by having our scholars in classrooms and residence halls."
Other summer offerings also returned to in-person formats, including the ATSU-Truman Healthcare Academy, designed for students in grades 9-11 interested in health-related professions, and JBA Jr., for students in grades 4-6. All three programs saw participation levels at or exceeding pre-pandemic numbers.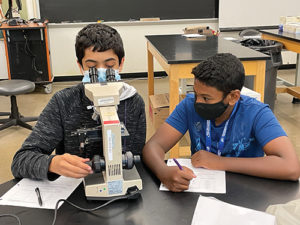 Although summer academies returned, they were not entirely "back to normal." All University protocols were still in place, including social distance guidelines, facial coverings and additional meal options, such as eating outside or in the student's residence hall room. For JBA, the closing reception and scheduled family visit day were also suspended to reduce travel to campus. Despite those challenges, participants and their families were glad to be back.
If JBA were a high school, it would be Truman's largest feeder school. An estimated 10,000 JBA alumni have attended the University since the program began in 1985.
The Institute for Academic Outreach is in the early stages of developing a JBA alumni network. Students who attended the program are encouraged to provide their contact information online at jba.truman.edu/alumni-form.
"JBA played a prominent role in the educational experience of many of our alumni," Harding said. "We have a significant number of program alumni, and as we approach its 40th anniversary we would like to reinvigorate our ties with them. JBA is a unique program, and everyone who participated in it shares a special bond."
The Joseph Baldwin Academy offers highly talented students a head start on their future university careers by allowing them to live like college freshmen for three weeks. Students move in to a residence hall, interact with fellow classmates and participate in discipline-specific courses. The primary goal is to increase their appreciation for education, intellectual engagement and the college experience. Students enrolled in grades 7-9 may be nominated by their school counselor or principal to participate in JBA. For more information, visit jba.truman.edu or email jba@truman.edu.