Through his research, Anton Daughters sees similar patterns across humanity, from fishing communities in Chile to his adopted home in the Midwest.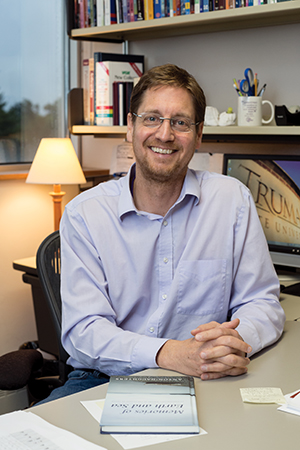 Following a five-year stint in the Army, Anton Daughters kept one overarching factor in mind when making his college choice – he wanted to go somewhere sunny. After loading up the car, he drove from Alaska to Albuquerque where he enrolled at the University of New Mexico.
To be fair, Daughters knew what he was passionate about, he just didn't yet know he could study it for a living. The son of an American father and a Chilean mother, he spent ages 10-14 living abroad in Chile. His service in the Army also enabled him to see the world and gain an appreciation of other cultures. After a little research, it seemed natural to pursue a degree in cultural anthropology.
"I didn't even know that was a thing until I started looking at majors," he said. "Anthropology is always asking you to take this broad view of who we are. It's asking you to step back a little bit from the present, or at least understand how the present fits into this larger picture, and I love topics that force you to take this broad view."
After earning an undergraduate degree from UNM, a Ph.D. from the University of Arizona and completing a two-year post-doctoral program at Cornell College in Iowa, Daughters came to Truman in 2012. The University's liberal arts mission aligns well with his career goals.   
"The job has the right balance of teaching and research," he said. "I got into this line of work mainly because I like to teach, but I also didn't want to disavow research entirely, and they give you the space to do research here."
Research is a labor of love for Daughters, who has been studying the Archipelago of Chiloé for more than 20 years in his childhood home of Chile. Historically a rural outpost of seafarers and indigenous farmers, the area has seen a transformational shift toward a global economy as major fishing companies moved into the region. Although his research deals with something 6,300 miles away, Daughters sees similarities not far from home.
"It's a transformation that isn't foreign to people here where we are in the Midwest," he said. "It's a fairly universal process of transition, and you can think of it really as an extension of the industrial revolution reaching increasingly rural parts of the world."
Daughters has been documenting the changes in Chiloé since the early 2000s, visiting the region every two or three years, and at one point living there for an entire year. In 2019, he published "Memories of Earth and Sea," a comprehensive examination of the islands' history.
Another transition Daughters is excited about is the one back to the classroom. After of a year of teaching virtually, he resumed in-person classes for the current academic year.
"On the whole, I missed person-to-person contact and teaching," he said. "Now that I've gone back to in-person teaching, I really enjoy it. If there's a silver lining, it's that it made me appreciate, again, how fun it is to teach and be in a classroom interacting with students."
A popular instructor, students are no doubt happy to be back in his classroom as well. In addition to earning the Governor's Award for Excellence in Education in 2018, Daughters was named Truman's Educator of the Year in 2017.
"That's a student-initiated award," he said. "To me it felt like a really meaningful recognition."