Kathy Otero is no stranger to stepping outside of her comfort zone, and she wants students to do the same.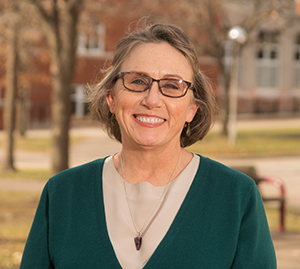 Even though she teaches managerial accounting courses for upperclassmen and graduate students, Kathy Otero advocates for her students to take classes outside of the major.
"You'd be surprised how much this will broaden your thinking," she said.
Otero also encourages her students not to be afraid of challenges, as well as to focus on learning, not on a particular letter grade. That advice is less about being a free spirit and comes more from a place of practicality.
"Once you're working, it's your job performance, not your college grades, that will matter," she said.
As an associate professor of accounting, now in her 10th year at Truman, Otero is used to being in charge of the classroom. Yet, she still feels she has a lot in common with her students.
"We are students all our lives, and our purpose is to learn and grow," she said. "In order to grow, we should embrace challenges that move us beyond our comfort zones."
Otero practices what she preaches, and it is fair to say she is comfortable being uncomfortable. A self-described introvert, she is not particularly comfortable around new people, but she's learned to hide it well. Demands of the pandemic also put her in some unfamiliar territory.
"I was forced out of my low-tech comfort zone into a higher-tech environment," Otero said. "While it would be way off base to say I'm great with technology, I am getting better, and I'm less afraid to try new things. Technology has improved my ability to spend more class time doing rather than lecturing."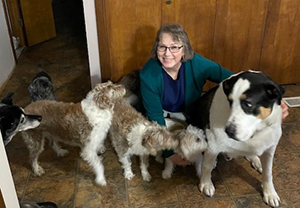 Otero is not afraid to branch out spatially as well. After earning all three of her degrees from the University of Texas at El Paso, and lecturing there for multiple years while completing her Ph.D., she made the move to Missouri and Truman's School of Business. She and her husband were looking for a rural area to accommodate their horses and dogs, and because she enjoyed her interactions with students, Otero was seeking an institution that put student learning first.
"Truman fit the wish list on both counts," she said. "I work with the greatest group of people ever. We're all focused on student learning and improving our programs, and the students are very interested in learning, which expands what I can teach."
Ironically, teaching was never on Otero's radar. While working toward her master's in accounting, she landed a teaching assistant job with the chair of the department. When an adjunct position came open in mid-semester, she was thrust into the role.
"I was terrified and excited at the same time, but it was a great opportunity, and I discovered I liked teaching and loved the lightbulb moments students had," she said. "I was hooked."
Otero's appreciation for those moments is what she likes best about her work at Truman, and she hopes those epiphanies do not stop when students complete her class.
"I love the mutual satisfaction both my students and I get when a concept gels for them. I also really like those moments when students look at something we're doing from a different perspective and come up with ideas and questions that make me stop and think," she said. "When a student leaves my course, I want them to feel they know more, can do more and can continue to learn more than they realized."