Kelly Walter uses her love of horses to strengthen the Truman equine program and give students real-world experiences.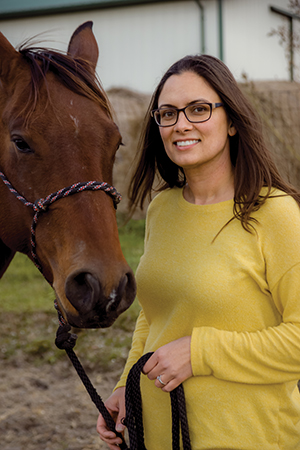 Some students might be surprised to learn Truman has a University Farm located southwest of campus, and those who do know about it might think it is only for agriculture students. Kelly Walter, associate professor of agriculture science, would like to change that.
"There is something for everyone out at the farm," she said. "There are beginning horsemanship courses and an equestrian team that requires no previous experience. Students can also enjoy the scenery and just visit the farm."
For someone like Walter, it's difficult to image a day without working with animals, whether it is at the University Farm or at home on her family's farm in Putnam County.
"I have loved horses as long as I can remember," she said. "My first experiences with horses were through our area 4-H program, and with that came exposure to the University of Georgia animal science program. When I realized I could incorporate my love of horses and my interest in science into a long-term involvement in animal science, there was no turning back."
While earning her master's and Ph.D. at Texas A&M University, Walter's research included nutrient requirements of weanling Quarter Horses and later fetal programming. Her dissertation looked at the influence of maternal nutrition on the resulting foal. Fittingly, of the 18 different courses she has taught since coming to Truman in 2012, many have dealt with animal reproduction and nutrition, and her favorite course to teach is Equine Reproduction Practicum.
"My teaching philosophy is to keep it simple and focus on animal examples and case studies. In many of my classes we cover complex subjects, but when it is applied to a real-life example using animals, it becomes much easier for students to follow," she said.
Walter has a number of goals to improve the quality of the horses produced at the University Farm, including producing prospects for western performance horse events, identifying high-quality performance stallion options to use from the area equine industry to replace University-raised stallions, and establishing a plan for selling Truman horses as weanlings and yearlings at auction to the general public. Her approach has already started to see results. Over the past two years, she orchestrated the sale of nine horses, ranging from weanlings to two-year-olds, netting the equine program $30,000 to use toward purchase of replacement horses in the future.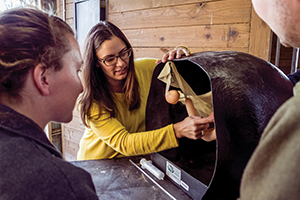 "It is important to raise quality foals that are in demand by the horse industry in order to model successful equine business practices to our students," Walter said. "My primary goal is to teach students the science of reproduction while applying that knowledge to real-life scenarios."
Over the next few years, Walter hopes to have mares with strong performance records of their own to use for breeding. Additionally, she would like to use the generated income to purchase fully trained riding horses for the horsemanship courses and equestrian team.
All of Walter's equine science courses and research are technically open to any major and do not require any existing horse riding experience. Some courses would require other prerequisites in order to participate, but there is not a requirement for any pre-existing horse experience.