Truman men's basketball had a magical run in the NCAA Tournament as they won the NCAA Midwest Regional Championship over Michigan Tech in a dramatic finish and advanced to the Elite Eight for the first time since 1999.
After the 2020-21 season, the team took home a handful of GLVC awards. Cade McKnight was named GLVC Player of the Year and was joined by Turner Scott, the GLVC assist leader, on the GLVC first team. Dylan Peeters, who led the conference in rebounds, was named second-team All-GLVC. Masen Miller was named Freshman of the Year and to the GLVC All-Defensive team. McKnight continued to add hardware as he was one of 16 players named NABC All-American and was named Midwest Regional MVP after scoring 33 combined points in the wins over Ashland and Michigan Tech.
Jeff Horner was named GLVC Coach of the Year after leading the team to a regular season championship and 18-1 record.
The Bulldogs entered the 2021-22 season ranked sixth in the NABC poll, and after a 4-0 start moved up to second in the nation before dropping two straight – one to defending national champion Northwest Missouri State, and the second to undefeated and ranked Upper Iowa – both on the road. The Bulldogs rebounded with wins in their first two conference games, defeating Missouri-St. Louis in overtime on a half-court buzzer-beater by Miller, followed by a win over Maryville.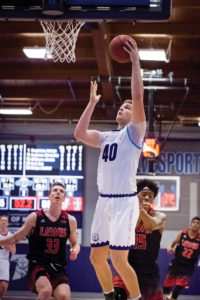 For those who cannot make it to Pershing Arena for home games, the team will be in the St. Louis area to take on Maryville, Jan. 15, and Missouri-St. Louis, Jan. 20. The Bulldogs play Lewis in the Chicago area, Feb. 3, and in Kansas City at Rockhurst, Feb. 26. 
The GLVC postseason tournament will run March 3-6 on the campus of Southern Illinois University Edwardsville, again in the St. Louis metro region.