Connecting with faculty helped Calaneet Balas on her journey to CEO and president of The ALS Association.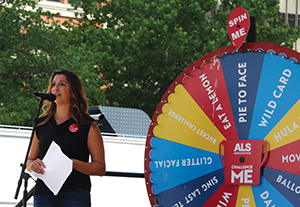 As internet fads go, the Ice Bucket Challenge is one of the most memorable. The perfect combination of an easy-to-do, yet still uncomfortable stunt, all done in the name of a good cause. Even those who did not personally participate likely know someone who did. People who had no clue what ALS is suddenly became aware, and many more opened their wallets in support. For alumna Calaneet Balas ('97), who serves as the CEO and president of The ALS Association, the lightning-in-a-bottle phenomenon is having long-term impact and giving her hope for the future.
"Money drives progress. When you put money into research you get answers, and then you follow the things that are promising," Balas said. "I really see the amount of progress in the number of phase two and phase three clinical trials compared to where we were before the Ice Bucket Challenge."
Balas joined The ALS Association in 2016, two years after the viral sensation, but she is managing its exciting results that come with great opportunities and great challenges. She estimates late-phase clinical trials have nearly quadrupled in recent years, an unusually significant amount of progress.
"Things like the Challenge are good because they help with awareness, and that opens the door for a deeper conversation," she said.   
In a career dedicated to public health advocacy, Balas is prepared to have those deeper conversations on a number of topics. She also served as the chief executive officer of the Ovarian Cancer National Alliance, in addition to leadership roles with the Arthritis Foundation and the International Alliance of ALS/MND Associations. As a trusted voice in public health, she has testified before Congress and spoken with major news outlets including the New York Times, the Washington Post and NBC Nightly News. Interestingly enough, her life may have taken a drastically different path if not for a call from a former professor.
After earning her degree in exercise science from Truman, the native of Cedar Rapids, Iowa, did a post-graduate internship in St. Louis. She was contemplating a trip through Europe when Michael Bird, chair and professor of exercise science, encouraged her to pursue a graduate program at the University of Memphis. His connections put her on a path to a full scholarship while she earned a master's degree in human movement science and education.
"I couldn't have done that on my own," she said. "He reached out and said, 'you're not going traipsing around Europe; you're too smart for that.' I owe him a great deal of gratitude for mentoring me in that direction."
Balas also added an MBA from Herriot-Watt University to her credentials, but her career focus has remained on helping others, not on titles.
"I sometimes call myself the accidental leader," she said. "I try to get out of the C-suite and I get pulled back into it. For me, it's not about being an administrator, it's about really being able to have an impact."
The ALS Association has been making an impact since its inception in 1985. Unfortunately, amyotrophic lateral sclerosis, also known as Lou Gehrig's disease, is one of the world's most complicated and debilitating ailments. A progressive disease of the nervous system, ALS patients see reductions in muscle functionality, eventually inhibiting the ability to move, communicate or even swallow, all while cognitive awareness remains intact. Effected individuals essentially become trapped in their own body.
"It's probably most of our worst nightmares," Balas said.
According to Balas, ALS is not as rare as many might think. Its true devastation comes from its rapidity. Treatments that slow down progression could increase survival rates, and advances in technology have made life more manageable for afflicted individuals. While every advance is welcomed, Balas will not be satisfied with progress alone.
"My eye is always on the prize of a cure," she said. "It's an honor to try to fight for this community and fight for people and their families who are trying to deal with this. The days can be hard, but my days are no harder than theirs. They keep me going. I won't give up on them."