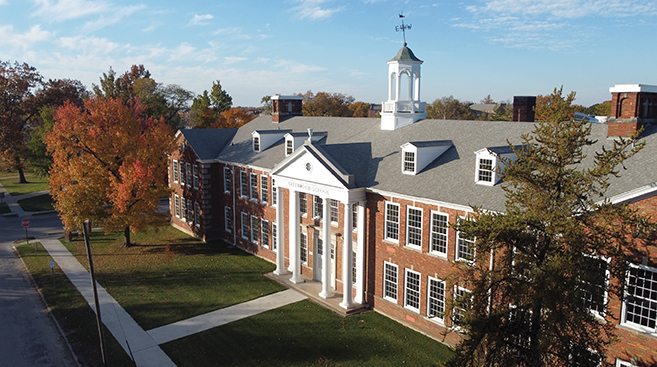 A massive project several years in the making is set to become a reality after significant funding has been secured from multiple sources.
Since 2015, the Greenwood Interprofessional Autism Center has been Truman's vision for the former elementary school located at the corner of Halliburton and Normal. When complete, the center will provide in-depth, interdisciplinary assessment and intervention for children with autism or suspected autism, as well as other neurodevelopmental disorders.
This past year saw the University receive support in the form of state appropriations and potential federal funding. In June, spearheaded by state Sen. Cindy O'Laughlin, the Missouri legislature appropriated $4.6 million for the project. In the most recent federal appropriations bill, U.S. Sen. Roy Blunt earmarked $3.42 million for facilities and equipment, along with an additional $900,000 to expand degree programs. This appropriations bill is now moving through Congress.
"While at times the challenges of obtaining funding for the Greenwood Interprofessional Autism Center seemed insurmountable, Truman and the community never gave up. The drive to address the unmet needs of our community kept all of us going," said University President Susan L. Thomas. "Truman is honored to lead this truly collaborative effort to make the center a reality, and we are enormously grateful for the dedication and hard work of so many to make it happen. The unrelenting efforts over the past six years are a true testament to the caring, committed and resilient nature of our University and the community."
In addition to state and federal support, Truman has received a $1.1 million grant from the Sunderland Foundation of Kansas City and community support from the Adair County SB40 Developmental Disability Board in the form of financial backing to develop a cost analysis and initially fund an executive director position. That position is slated to be filled as soon as possible and will be responsible for the successful planning, administration coordination and management of the center. The director will serve as the primary supervisor and coordinator for all faculty, staff and external collaborative partners associated with the center and provide the leadership and vision that drives its future growth.
The Greenwood Interprofessional Autism Center will be staffed with licensed professionals and provide a variety of services. It will also offer opportunities for graduate and undergraduate students enrolled in academic programs at Truman and A.T. Still University to gain real-world experience in their fields.
Originally built in 1935, the Greenwood School served elementary students in Kirksville for more than six decades. Truman bought the building in 1999 when the Kirksville School District built a new elementary school, and the property has primarily been used as a storage facility since that time. Expected completion of the Greenwood Interprofessional Autism Center is fall 2023.
More information about the Greenwood Interprofessional Autism Center, including a timeline, funding history and information on how to support the project, can be found at greenwood.truman.edu.