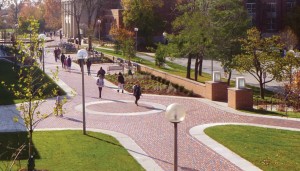 For more than 40 years, hundreds of students ventured across the Truman Mall each day attending events, tabling for a cause or walking with a friend on the way to class. After decades of facing the elements it was time for a makeover, and the Mall reconstruction project began in May 2015.
Despite a summer of heavy rainfall causing a few setbacks, the project was finished just in time to welcome alumni back for Homecoming. The area renovated includes the pathway extending from the Student Union Building toward McClain Hall and Baldwin Hall. This marked the first major renovation in the history of the Mall.
Discussions began in the early 1970s about creating a pedestrian-friendly pathway between buildings to make campus safer and more accessible. Prior to 1973, the Mall was an extension of Marion Street, which ran north and south between Pickler Memorial Library and the Student Union Building.
While the area was initially built as a walkway, the recent updates have created a space for students to gather and collaborate. Several benches were installed to provide an area to relax between classes. Locust and elms trees were also planted to create shade around seating areas, and the addition of multiple power sources allows for outdoor group meetings and new locations to do homework.
As part of the renovation, a handicap accessible ramp was added from the Student Union Building parking lot. The Mall project is one of Truman's many efforts toward the goal of making campus more environmentally friendly. The project utilized new materials and details that will endure harsh weather and heavy traffic. Unlike the old Mall, these new materials allow rainwater to reach the underlying soil, which will provide healthy growth of shrubbery.
To celebrate the Mall improvements, Truman hosted a "Guess the Bricks" contest challenging students to estimate the number of bricks ordered for the project. Of the 127 students who entered the contest, computer science major Niraj Shrestha won with his estimate of 51,750. The actual number ordered was 68,000. As the winner of the contest, Shrestha was presented with a signed brick from University President Troy D. Paino.
—Erin Cicotte