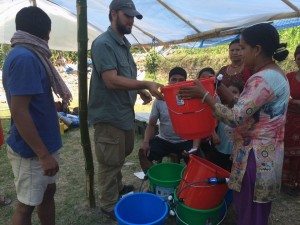 Selflessness and contributing to the greater good are traits found in many Truman alumni, and in 2015, the University created a way to showcase some of those individuals.
The TruHero Project is designed to recognize students and alumni who assume heroic roles, either by choice or by necessity. These are individuals who do remarkable things for others. Among the plethora of worthy candidates, Dan Sem ('05) was selected as the inaugural recipient of the TruHero Award.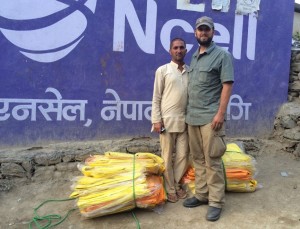 In the wake of the 7.8-magnitude earthquake that struck Nepal in April 2015, Sem traveled to the country to help with relief efforts. Providing food, water, shelter and tools to rebuild amongst the most affected and remote communities that they could enter, Sem's team provided more than 22 tons of rice, 250 portable water filtration units and hundreds of tarps to temporarily shelter people who had lost their homes. In addition, they provided tin sheeting for almost 1,000 families to build longer-lasting structures to weather the impending monsoons.
Nepal was not Sem's first experience helping others. After graduating from Truman with a Bachelor of Arts in communication, he was commissioned as an officer in the U.S. Army through Truman's ROTC program. First assigned to a medical evacuation battalion in South Korea for a year, he was then sent on an 11-month combat deployment to northern Iraq as a medical logistics officer. He spent his remaining years in the military in an infantry brigade as head medical planner, which included a year-long deployment in northern Iraq.
After moving to Corpus Christi, Texas, to volunteer at a church ministry, Sem became pastor of the Sovereign Grace Community Church in 2011. He also established Inbound Horizons Inc., a small business focused on website development and digital marketing. In addition to starting his own business, Sem also created the nonprofit Thirsty Ground International (TGI) in response to the historic typhoon that leveled the far eastern islands of the Philippines in the fall of 2013.
Sem returned to campus in September to accept the TruHero Award. To learn more about his endeavors, visit truman.edu/our-stories/alumni/dan-sem.
To nominate an individual for the TruHero Award, contact Brad Chambers at bchamber@truman.edu or (800) 452-6678.
---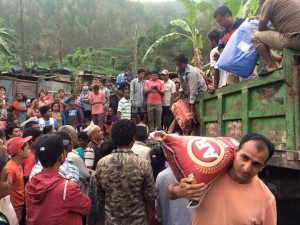 Update on Nepal Emergency Relief Fund
At the time of the earthquake in Nepal, Truman had 39 enrolled students from the country, with dozens of alumni and several others who had family there.
While none of them reported the loss of immediate family, they were nevertheless devastated by the tragedy in their country. Many survivors, including some of Truman students' families, lost their homes and livelihoods.
In response to this tragedy, the Truman State University Foundation created the Nepal Emergency Relief Fund to provide financial educational support for students who were impacted by the earthquake. As of December, the Truman community has contributed gifts totaling more than $14,749 to the fund.
Those that wish to join other University alumni in supporting Truman Nepalese students can complete a gift online at nepalfund.truman.edu or contact the Advancement Office at (800) 452-6678.