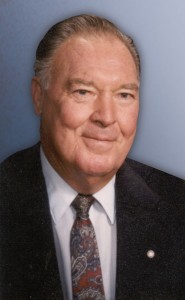 Seven-time NBA All-Star Harry J. Gallatin ('48) passed away Oct. 7, 2015, at the age of 88. Nicknamed "The Horse," Gallatin led the Bulldogs to a 59-4 record during his two seasons before proceeding to play and star for the New York Knicks.
The NBA's original "Iron Man," Gallatin played 610 consecutive regular season games for the Knicks from 1948 to 1957. In 1954, he led the NBA in rebounding, and he still ranks fourth on the Knicks' all-time rebound list. His cumulative total of 746 consecutive career games established him as one of NBA's most durable players.
After his retirement, Gallatin was the head men's basketball coach at Southern Illinois Carbondale for four seasons before returning to the pro level as the head coach of the St. Louis Hawks. He was named the first NBA Coach of the Year in 1962-63. He returned to the Big Apple to coach the Knicks and spent two more seasons on the Madison Square Garden sidelines.
Gallatin returned to college athletics in 1967 and was named the dean of students at Southern Illinois Edwardsville. He organized and helped start the Cougars' athletics department, coaching basketball for two years and serving as athletics director for five. His best run as coach came on the golf course at SIUE, as he guided the Cougars to 17 trips to the NCAA Division II golf championship tournament.
In 1991, Gallatin was inducted in the Basketball Hall of Fame in Springfield, Mass. He was also a member of the Truman Athletics Hall of Fame, the SIUE Athletics Hall of Fame, the Missouri Basketball Hall of Fame, the Illinois Basketball Hall of Fame, the Mid-America Intercollegiate Athletics Association (MIAA) Hall of Fame, the NAIA Hall of Fame and the SIU Salukis Hall of Fame. In May 2015, he was recognized at Madison Square Garden with a floor tile in the "Walk of Fame" for outstanding achievements in the history of the Garden.