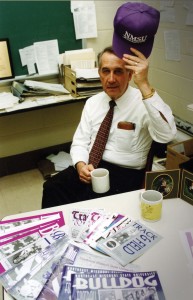 William "Bill" Cable passed away July 28, 2015, at the age of 81. Cable was the school's first full-time sports information director and served the University for nearly 40 years until his retirement in 1995.
Following graduation from Hannibal High School in 1952, Cable attended Truman for two years, where he was a member of Sigma Tau Gamma fraternity. He then transferred to the University of Missouri-Columbia School of Journalism.
After graduation, Cable immediately started working for Truman, a professional relationship that lasted almost 40 years and was interrupted only by a two-year tour of duty in Korea where he edited an award-winning company newspaper.
From 1958 until 1972, Cable's time was divided between directing the publication office and creating the first sports information office. In 1972, he was named the University's first sports information director, a position he occupied until his retirement.
Cable served on various committees of the College Sports Information Directors of America (CoSIDA), including the Academic All-American Committee for student-athletes, and he served as a board member for three years. Numerous publications of his received CoSIDA awards, and he was inducted into the CoSIDA National Hall of Fame in 1988.
Other professional honors and awards include: CoSIDA Warren Berg Award; the Mid-America Intercollegiate Athletics Association (MIAA) Hall of Fame; Truman Athletics Hall of Fame; and Outstanding Division II Sports Information Director, a designation for which he was most proud.