Gifts to this priority will channel resources to bolster the teaching-learning environment at Truman. Reductions in state appropriation have resulted in pressure on operating budgets across the campus, and private gifts can provide additional resources for deans and department chairs to offset the pressure.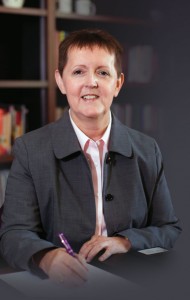 Debra Kerby, dean of the School of Business, established the Kerby Family Business Excellence Fund to continue to provide progressive technology and learning opportunities for students, faculty and staff within the School of Business. Kerby has a great history with the University as she received undergraduate and graduate degrees in business education from Truman. As a student, she received financial support and saw this as an opportunity to pay it forward.
"Because of the scholarships and educational stipends that I received as a Truman student and employee, the cost of my undergraduate and graduate education was nominal," she said. "It's my responsibility to assist by financially supporting educational opportunities for others."
By establishing this fund, Kerby is able to see firsthand the opportunities and support derived from her donation.
"The mission of the School of Business is focused on the personal and professional development of students as prospective business and civic leaders rather than accomplishments of the faculty," Kerby said. "Employers tell us that Truman graduates are better communicators, better thinkers and more hard-working than many they hire from other institutions."
In addition to assisting students, the Kerby Family Business Excellence Fund will support faculty through providing resources to attend academic conferences and support additional opportunities for research.