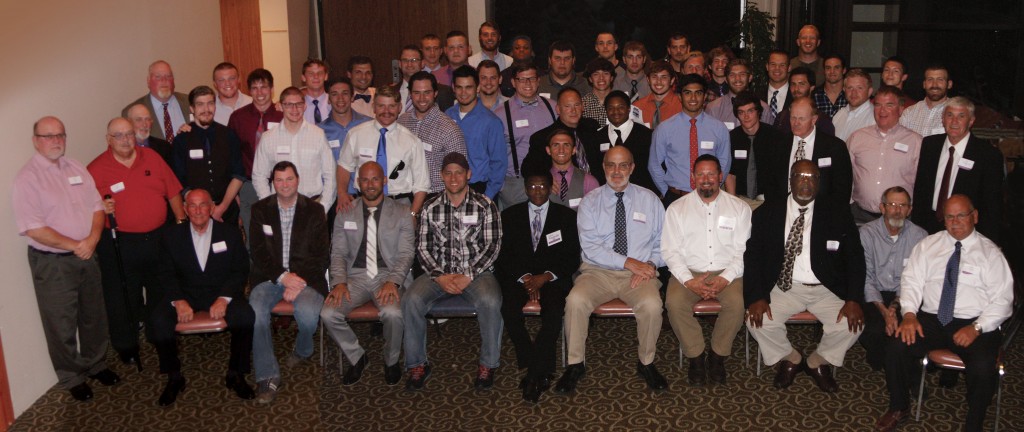 In its 50-year history, Truman wrestling has had many impressive accomplishments, including two individual national champions and 19 NCAA Division II academic All-American awards. Truman wrestling is the only Division II program to win six academic national titles and the only one to do so four years in a row.
When members of the Truman wrestling family came together to honor the program's golden anniversary during Homecoming 2015, they celebrated another milestone – the announcement of a new endowed scholarship. The Meyer/Schutter Family Wrestling Scholarship, established by Greg Meyer and head coach David Schutter, will provide valuable assistance for Truman wrestlers.
"Wrestling has always been positive in my life, and this is a way for me to give back to wrestling," Schutter said. "The fact that I can also give back to Truman State University, which has supported the great sport of wrestling since 1965, lets others know the importance of paying it forward."
Wrestling alumni from all over the country and from all different eras returned to Kirksville to celebrate the 50th anniversary. They had a chance to sit in on a practice session with current wrestlers, participate in the Homecoming parade and enjoy festivities at the Bulldog Forever Alumni Tailgate. The weekend's activities wrapped up with the Bulldog Wrestling Reunion Banquet with more than 130 in attendance. Among those on hand were Merrick Meyer ('05), the 2004 national wrestling champion and 2015 Truman Hall of Fame inductee, as well as Curd Alexander ('71), the 1970 national wrestling champion, and original coach H.A. Walmsley.
"The first wrestling match I watched was the first one I coached – and we won," Walmsley said.
Although Walmsley had coaching experience in tennis and football, he had no wrestling background prior to being named the first wrestling coach in 1965. During the next four seasons, the wrestlers compiled a dual record of 57-12-2 and finished first twice, second once and fourth once in the MIAA tournament.
The Meyer/Schutter Family Wrestling Scholarship will reach endowment levels in 2020 – providing a permanent source of scholarship support for Truman wrestlers.
"One of my goals is to endow multiple scholarships for wrestling," Schutter said. "Now that the Meyer family has stepped forward to lead the way, hopefully others will join and make meaningful contributions to support the program."
To support the scholarship, go to giveonline.truman.edu.