The first conference championship as members of the Great Lakes Valley Conference and an 11th NCAA Division II postseason appearance highlighted the 2015 edition of Truman women's soccer. The Bulldogs won 15 games and tied a program high with 23 matches played in a single season.
Truman opened the year with a split weekend at home, defeating Ferris (Mich.) State in the season opener before falling to Grand Valley (Mich.) State – the defending national champion coming into the season and the eventual national champion at the end of it. From there, the Bulldogs went on a tear, posting a 12-match unbeaten streak in the middle of the season before a loss at Bellarmine (Ky.) in overtime. Truman then won the final three matches of the regular season and the GLVC tournament quarterfinal all at home, before picking up a draw (advancing on penalty kicks) and wins in the GLVC semifinals and finals to earn the program's 10th conference title overall and first since joining the GLVC prior to the 2013 season.
The Bulldogs then earned the No. 3 seed in the NCAA Division II Midwest regional and defeated Cedarville (Ohio) 1-0 in the opening round before falling to Bellarmine by a 1-0 score in the second round.
Individual highlights on the season included the program's eighth all-time All-American, as senior midfielder Alexis Heffernan scored seven goals this year and 26 during her four-year stint at Truman. Three others – Jessica Hanson (GLVC Defensive Player of the Year), Stephanie Williams, and Megan Whitehead – joined Heffernan on the NSCAA all-region squad, while Cannon earned his 300th career coaching victory.
Truman graduates four seniors but will open the 2016 season at home, Sept. 1.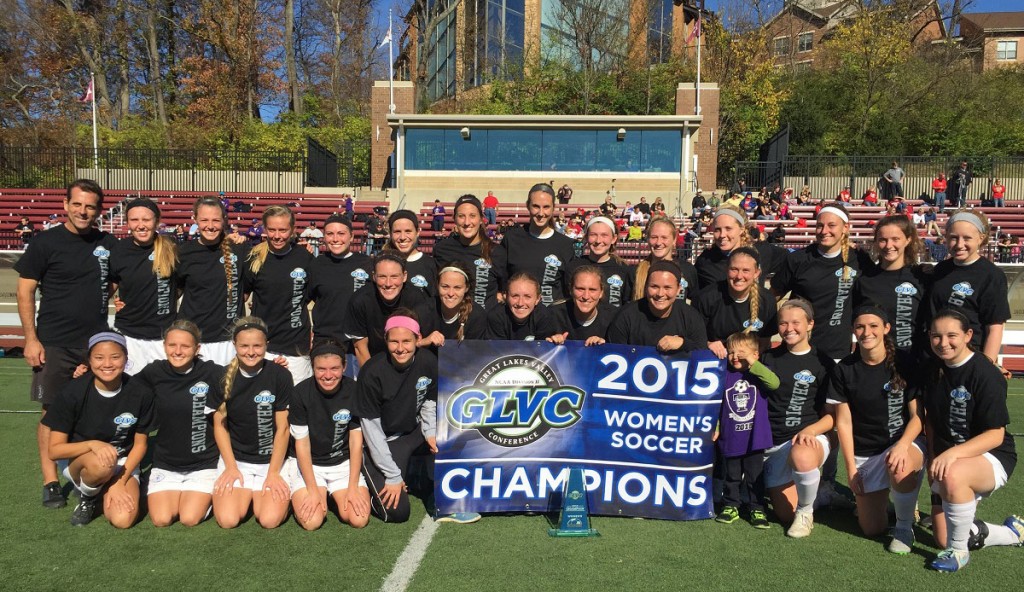 ---
The Bulldog team had its season come down to the final moments of the last regular season game, but the Truman men's soccer program just missed the GLVC tournament as part of an 8-10 regular season in 2015.
The Bulldogs were nearly unstoppable on their home pitch this year, posting a 7-2 record that included a victory against GLVC champion and NCAA Division II final four participant Rockhurst (Mo.) on Oct. 2.
Truman's young lineup showed flashes of strength this year, led by freshman forward Trevor Kauffman, who earned third-team All-GLVC accolades behind his six goals. Senior Corey Nolte added four goals and three assists, while redshirt freshman Brian Kane scored two goals and added three assists from his position on the back line.
The Bulldogs graduate four seniors and will open the 2016 season on the road, Sept. 1.